In my last post I said I would post up the past WildFire audio recordings. Unbeknownst to all of you I DID! Why didn't anyone know? Because I totally forgot to post about it. In fact I neglected to post for so long that its nearly time for FALL WildFire.
Never fear though, prepare yourself for a MEGAPOST of _ALL_ the WildFire audio I have available! Thanks as always to the DJs for their amazing talents on and off the field.
Summer 2012 (links fixed Sep 14th)
Friday - nope, we had recording problems. Sorry.
Saturday - The Amazing Baz (Baz Simon)
Sunday - DJ Recluse (Matt Weston)
Perfomance Class (coming soon... I hope)
Spring 2012 (Friday, Saturday, Sunday, Never Gonna Bop) - Originally posted in "WildFire Spring 2012"
Fall 2011 (Friday, Saturday, Performance [wav]) - I'm not sure why I don't have sunday. I'll look around again.
Summer 2011 (Friday, Saturday, Sunday)
Spring 2011 (Friday, Saturday) - Sunday didn't happen because I forgot a power adapter and was WAY too busy playing with my flowlights. Read more in "Burning Beats and a Shining Light of Craziness"
Fall 2010 (Friday, Saturday, Sunday) - This was my first recording attempt. The quality is pretty mixed (meaning a bit awful). Original post "A Taste of Home"
Last weekend was the Spring 2011 WildFire Retreat. I had the pleasure of traveling and camping with some of my dear friends from Consolidated Awesome, and it was amazing.
Lets get on with the good stuff? Okay, here it is!
friday.mp3 - 374.1mb 3h10m - Even though I forgot my power adapter for my MacBook Pro at home, I was able to record all the way up to the final "goodnight"! I was so happy to find out that I had gotten it all.
saturday.mp3 - 388.6mb 3h34m - I was fortunate enough to borrow a power adapter for Saturday night. Thanks again whoever you were (sorry, I'm awful with names).
sunday... - Sorry, there's no recording of Sunday because I was only able to borrow the power adapter for Saturday. In addition I was having far too much fun playing with my INSANE FLOWTOYS OF INSANITY (more below).
On Sunday night, after the performance class I assembled and lit the series of tubes that was variably named "a big mistake", "a bad idea" and "awesomely stupid" (all labels applied by me). It consisted of 20 FlowLights in various sized tubes assembled into mega-sized toys.
Round 1: MEGA POI - 10 lights, 2 connectors, 3 tubes in each of 2 gigantic (approximately 6ft) poi. They were spun on benches, and on stilts and I even spun them (with little hops and jumps) while standing (long arm) on the ground. After everyone who wanted to had tried this craziness out, we moved on to...
Round 2: MONSTER STAFF - Remove flowpoi caps, insert contact staff handle. Result? 15 foot contact staff with about a foot of sag from center to ends. This thing was insane. In a show of complete badassery, Terry Fields was able to pull off both a cartwheel  with the staff on his back and (what looked like) a full matrix. He and I then proceeded to harass the people standing around the fire pits into lighting up and getting the spinning started for real, by imitating a gigantic glowing bird screaming and chasing me across the field.
It was wonderful. It was hilarious. I didn't get any pictures of it! 🙁
If any of you have or know people who may have pictures or video of the epic flow madness from Sunday at 2011 Spring WildFire, please contact me to share.
Thanks for another great event, keep burning brightly, and spread the awesome!
~ Mike
Last year at WildFire Retreat I had the good fortune to be able to record the DJs on the burn field all three nights. I had originally hoped to release these immediately following the event but for many reasons (ooh! shiney!) I didn't.
Finally, only weeks before we head back into the wonderful world of WildFire, I have them to share. These files are posted on dropbox at the moment. If anyone knows of a better (preferably free) way to share them, please let me know.
Please keep in mind that these are unedited live mixes. Enjoy them as the moments of history that they are 🙂
Hope to see you soon.
- dracoling
EDIT: I just noticed that sadly the friday track had some recording issues. From about 5m into the recording until about the 30m mark there's some problems. It clears up after that. The other two days went well.
EDIT 2: Fixed the link for sunday. oops!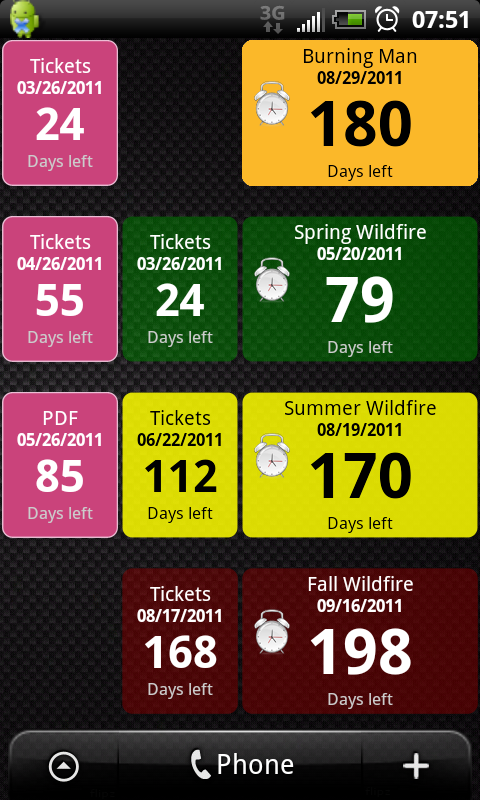 This year is a big one for me. I've been planning to go to a few events. Today I put a bunch of countdown widgets on one of my spare homescreens on my phone. Can't tell if this makes it more scary or less. Time will tell.
Update: Got a few questions about the apps/widgets I was using and the event dates, so here's all the answers...
Android Apps/Widgets (android market links):
Events:
Expect to see some more updates on the Burning Man front throughout the year, this will be my first time going and there's a lot of things to learn along the way.